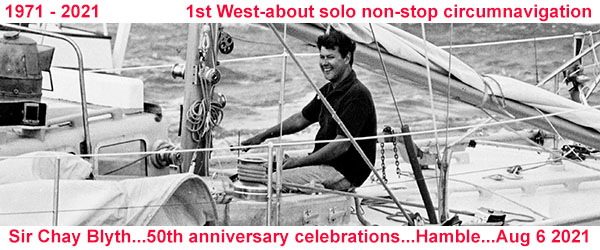 click on the pictures to download larger files
Sir Chay Blyth leads a parade of sail up the Hamble River
Well-wishers cheer as Sir Chay Blyth arrives at the Royal Southern YC pontoon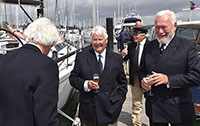 Commodore Robert Vose (left) with Sir Chay Blyth and fellow pioneering solo circumnavigator Sir Rob Knox-Johnston.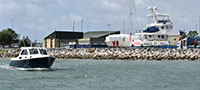 Round the world yachtswoman Tracy Edwards and her MAIDEN crew salute Sir Chay Blyth from the harbour wall.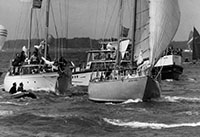 50 years ago. Chay Blyth returning to the Hamble aboard his 59ft ketch BRITISH STEEL at the end of his 292-day solo non-stop West-about circumnavigation.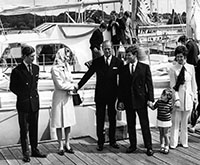 Chay Blyth with his family, greeted ashore by Prince Phiilp, Princess Anne and Prince Charles.
Sir Chay Blyth returns to the Hamble to celebrate the 50th anniversary of his pioneering solo non-stop west-about circumnavigation in 1971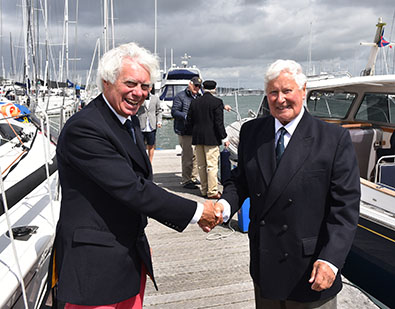 A welcome return from Commodore Robert Vose, as Sir Chay Blyth steps ashore at the Royal Southern Yacht Club on the Hamble, 50 years after his record-setting solo non-stop West-about circumnavigation.
British yachtsman Sir Chay Blyth returned to the Hamble today to celebrate the 50th anniversary of his victorious return to the UK at the end of a pioneering 292-day solo non-stop west-about circumnavigation against the prevailing winds and currents aboard his 59ft ketch rigged yacht British Steel.
A large crowd gathered at the Royal Southern Yacht Club to welcome his return, including fellow pioneer solo circumnavigator Sir Robin Knox-Johnston, together with Mike Golding who was the first to break Sir Chay's record 23 years later. The fact that only 5 sailors have managed to complete the same 'wrong way' voyage in the 50 years, against the 140+ who have sailed East-about with the prevailing winds, underlines the enormity of Blyth's feat when yachts were not equipped with roller furling, GPS navigation, poor communications and only rudimentary self-steering. Blyth's wind vane self steering was smashed in a storm off Cape Horn, and he had to steer his 59ft yacht by hand for the remaining 20,000 miles.
Sir Robin Knox-Johnston said today: "Francis Chichester, Alec Rose, myself and Chay were the pathfinders when the Brits dominated this form of ocean sailing, which led to a lot of people taking up the sport."
Mike Golding, a former fireman who has completed 6 circumnavigations is one of these. "Sir Chay's voyage excited me enough to get sailing and has shaped my career ever since. The continuing success achieved this last week by Team GB sailors at the Tokyo Olympics may not have been nearly so good had these pioneers like Sir Chay and Sir Robin not excited so many to buy boats and get afloat, for it is their children and grandchildren that are now leading the charge in international sailing. We have a great deal to thank them and today is mark in the history of our sport."
Click here to download list of Sir Chay Blyth's achievements
Click here to read an account of Sir Chay's historic voyage published in Classic Boat magazine
Click here to view and request high res.historic pictures of Sir Chay Blyth's voyage and victorious return.
Click here to view and download historic video footage of the original voyage
For further details, contact:
Barry Pickthall: PPL Media Ltd, 07768 395719 barry@pplmedia.com
Published by: PPL Ltd, PO Box 78, Hindhead, Surrey, GU27 9GA, UK
Forward
this email to a friend.
Subscribe to this list
here
.
Powered by
CovariMail
.